.
The response to the National Geographic "Live Curious" campaign was phenomenal! A lot of you wrote to me asking: a) how you can get a job working for Nat Geo, b) where you can get these same Tshirts.
I can't answer the first question. But I can say that you and I can all be like Nat Geo explorers by simply living curious lives. Ask a lot of questions, everyday. Everything deserves a why. Encourage your kids to ask questions and look for answers. This is the only way we can make a difference and change the world. Baby steps. And watch the National Geographic channel, they will soon have locally produced TV shows.
As for the second question, well... it's your lucky day(s). The Tshirts are available at Regatta shops. And because National Geographic channel is so awesome they are giving away
15 free tshirts
through my blog. The shirts look like these ones we, the ambassadors, wore for the campaign.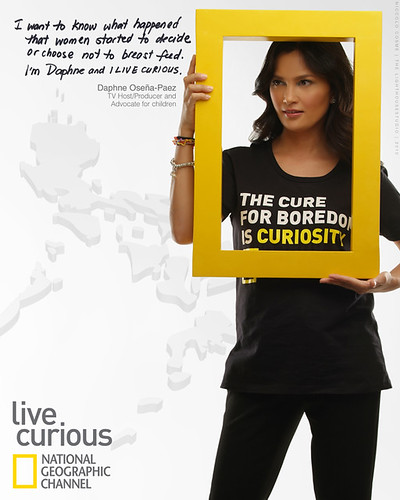 How to join:
1. Leave a comment in this blog entry. One entry per person.
Include your email address as you post your comment.
2. In the true spirit of the LIVE CURIOUS campaign, your comment has to be
in the form of a question.
Just one question. Your question has to reflect what you are curious about. It can range from the most simple to the most complicated. You don't have to answer your question.
3. National Geographic will choose 15 winners, each to receive one free National Geographic Live Curious Tshirt. Winners have to pick up the Tshirts (in person or through a representative) at the NatGeo office in Makati. We will email you the location.
4. Winners will be chosen based on the question that you ask. There's no real criteria - you can be as creative as you want.
5. Winners will be notified by email,
so please post your email addresses.
6. Contest runs from now until Sunday October 24, 2010 9:00pm.
7. Winners will be announced and contacted on Monday October 25.
Good luck y'all!
EDIT:
Contest has ended, winners have been announced.
.